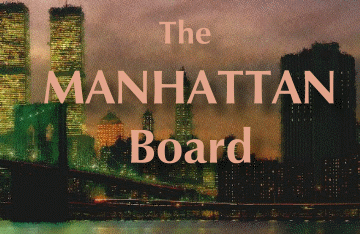 For displaced, misplaced, and nostalgic ex-Manhattanites
Copyright, Terms of Use, and Legal Statements
---
IMPORTANT: PLEASE READ THE FOLLOWING INFORMATION CAREFULLY. BY ACCESSING, BROWSING AND/OR USING THIS WEBSITE (THE "SITE"), YOU ACKNOWLEDGE THAT YOU HAVE READ, UNDERSTOOD, AND AGREE TO BE BOUND BY THESE TERMS AND CONDITIONS, AND TO COMPLY WITH ALL APPLICABLE LAWS AND REGULATIONS. IF YOU DO NOT AGREE TO THESE TERMS, PLEASE DO NOT USE THIS SITE.
Ownership and Copyright
This Site is owned, controlled and operated by SofTech Consulting ("SofTech") from its offices within the United States. SofTech Consulting makes no representation that materials in the Site are appropriate or available for use in other locations, and access to them from territories where their contents are illegal is prohibited. Those who choose to access this Site from other locations do so on their own initiative and are responsible for compliance with applicable local laws.
Any claim relating to, and the use of, this site and the materials contained herein is governed by the laws of the State of New York without reference to its conflict of laws principles to the contrary. By using the site, you irrevocably consent and waive all objection to jurisdiction and venue in the state and federal courts located in Westchester County, New York, with respect to any action commenced hereunder, and you agree not to commence or prosecute any action regarding the site or these terms except in the foregoing courts.
The material provided on this Site is protected by law, including, but not limited to, United States Copyright Law and international treaties. The copyright in all material provided on this Site is held by SofTech Consulting, Chappaqua, New York, USA. All rights are reserved. The material protected by copyright includes all text, posted messages, logos, graphics, photographs, and the software used to control, support, maintain and present this site. Except as stated herein, none of the material may be copied, reproduced, distributed, republished, downloaded, displayed, posted or transmitted in any form or by any means, including, but not limited to, electronic, mechanical, photocopying, recording, or otherwise, without the prior written permission of SofTech Consulting.
Specifically excluded from the above copyright are the text, graphics and photographs used in the advertisement banners ("banner ads") that appear on some of the pages at this site, and all portions of the linked sites that are owned and operated by The One and Only Network, including, but not limited to, The Manhattan Board Personals Connection and The Manhattan Board Auction House.
SofTech Consulting may retain or delete any posted messages, photographs or graphic images at its sole discretion.
At its sole discretion, SofTech Consulting may discontinue this site and dispose of the messages, graphics, and photographs at any time in any manner.
---
Terms Of Use
Limited permission is granted to display, view, print and read the materials on this Site for personal, non-commercial use only. This permission terminates automatically if you breach any of these terms or conditions.
You may not, without SofTech Consulting's permission, "mirror" any material contained on this Site on any other server. Any unauthorized use of any material contained on this Site may violate copyright laws, trademark laws, the laws of privacy and publicity, and communications regulations and statutes.
Under no circumstances, including, but not limited to, negligence, shall Softech Consulting be liable for any direct, indirect, special, incidental or consequential damages of any kind, including, but not limited to, loss of data or profit, arising out of your use or the inability to use the materials on this site, even if Softech Consulting has been advised of the possibility of such damages. Some states do not allow the exclusion or limitation of incidental or consequential damages, so the above limitation or exclusion may not apply to you.
Being that this is a privately-owned and operated website, SofTech Consulting, at its sole discretion, may make this website available (i.e. online), unavailable (i.e. offline), or otherwise limit or prohibit its use and the access to this website by any person or persons.
You are prohibited from posting or transmitting to this Site or to its email boxes any unlawful, threatening, libelous, defamatory, obscene, scandalous, inflammatory, pornographic, or profane material, or any other material that could give rise to any civil or criminal liability under applicable law, or which does not conform to the Message Content Guidelines as published at this site. You are prohibited from using nicknames or other identifiers which, in the judgment of SofTech Consulting, are intentionally meant to impersonate the identity of a person other than yourself. SofTech Consulting reserves the right to remove any material and/or terminate or block access to the Site by any user who SofTech Consulting believes, in its reasonable judgment, has engaged in such activities in connection with the Site.
By voluntarily contributing or submitting to this website, via email or by using this website's online facilities or by any other means, your text, narrative, image, graphic or other material, you warrant that you are the author and owner of the intellectual property rights thereto, or that the contribution is not protected by any current applicable copyright, and you grant to SofTech a worldwide, irrevocable, royalty-free, transferable right and license to use, copy, modify, delete in its entirety, adapt, publish, translate, create derivative works from and sell and distribute such materials or incorporate such materials into any form, medium or technology without compensation to you.
A WORD OF CAUTION: Please remember that what you write or publish in any public area of this site is visible to the public and that the information can be seen and used by others. While we do the utmost to protect your privacy, when you make information available on the public areas of this site you do so at your own risk.
You may not copy or use any email addresses posted on this site for subsequent transmission of unsolicited commercial email. This practice shall be considered harassment and a violation of the privacy of the owners of the email addresses, and may result in your being prosecuted under applicable laws.
---
Disclaimer of Warranties
The information provided on this site is provided "as is," for entertainmant purposes only, and with all faults, bugs and errors. Softech Consulting does not make, and hereby disclaims, and you hereby waive, any warranty, representation or condition, express or implied, concerning the site or any information contained thereon including, without limitation, any implied warranty of merchantability, fitness for a particular purpose, or noninfringement, and any warranty arising by course of dealing or trade usage.
SofTech Consulting may at any time revise these Terms of Use by updating this posting. By using this Site, you agree to be bound by any such revisions and should therefore periodically visit this page to determine the then current Terms of Use to which you are bound.
Should any term or provision hereof be deemed invalid, void or unenforceable either in its entirety or in a particular application, the remainder of this Agreement shall nonetheless remain in full force and effect and, if the subject term or provision is deemed to be invalid, void or unenforceable only with respect to a particular application, such term or provision shall remain in full force and effect with respect to all other applications.
---
[ Return to The Manhattan Board ]